Total Engagement in a Nutshell
Today we officially released Total Engagement. You can read the press release here.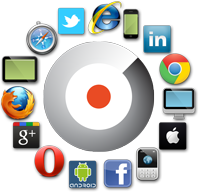 Q: What is Total Engagement? Give me the elevator pitch.
A: Our Total Engagement release is comprised of two parts;
i) We now support analytics for Mobile Apps – meaning that we collect and report app user events
ii) we combine app usage measurement with traditional web reporting. As far as we know, we are the only company on the market who can display app user eventstreams and website visitor clickstreams in the same report on the same page.
Q: What does that actually mean?
A: That means that if you make or publish apps and websites you can see all activity in one place, in realtime.
Q: How cool is that?
A: Very cool!
Q: Do you have a PDF that explains all that to me with visuals so that I can read it for myself?
A: Yes, click here.
Start your free, no-risk, 4 week trial!