User Engagement Metrics – What They Are – Why You Need Them
How to increase your ROI by tracking the right metrics.
Do you ever wonder if your product or service would sell? Do you ever wonder whether your audience will find your products valuable?
Every Smart Marketeer is concerned about this.
When you start or run a business, ask questions like these to yourself: what kind of service am I providing? what kind of product am I selling? to whom am I providing or selling this to? is the price within their budget? and, how will I make them loyal customers to my brand?
Answering these questions as honestly as you can, creating a buyer persona, setting your price, and finally crafting an effective marketing strategy will determine the kind of ROI you'll get from your marketing efforts.
But an iron-clad marketing strategy isn't enough. You need feedback as your business grows. You need to see how your users behave. Track this user behavior and use the data to improve your services.
If you don't track it, you won't know it. If you don't know it, you can't improve it. Hence, you lose money instead of increasing profits
How?
Let's take an instance;
Two competing companies were visited by similar users over a period of one year.
Business A and B are both online women-only clothing and accessories stores.
Business A tracks their user engagement. At the weekly marketing meeting, they tell each other stories about what the users are doing.
They are currently focusing their efforts on getting users to make return purchases.
Take a look at their main metrics for the last month: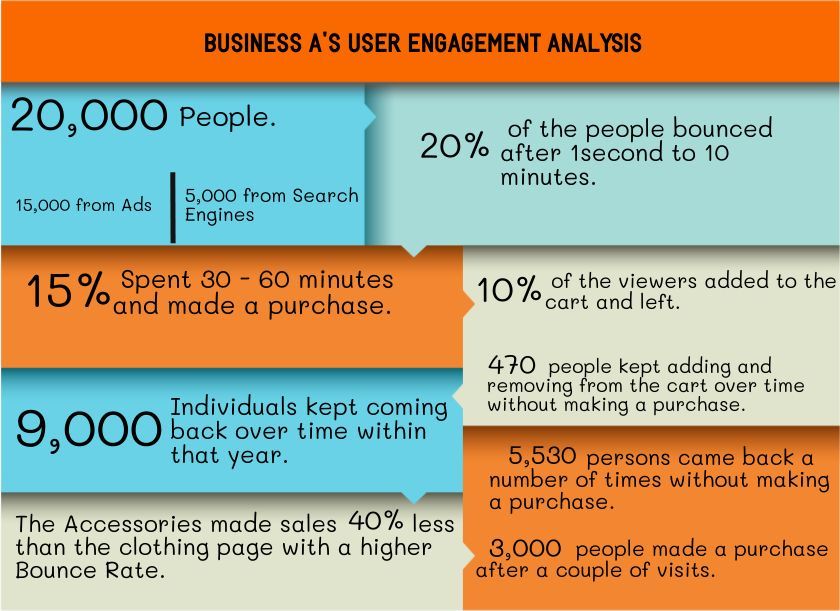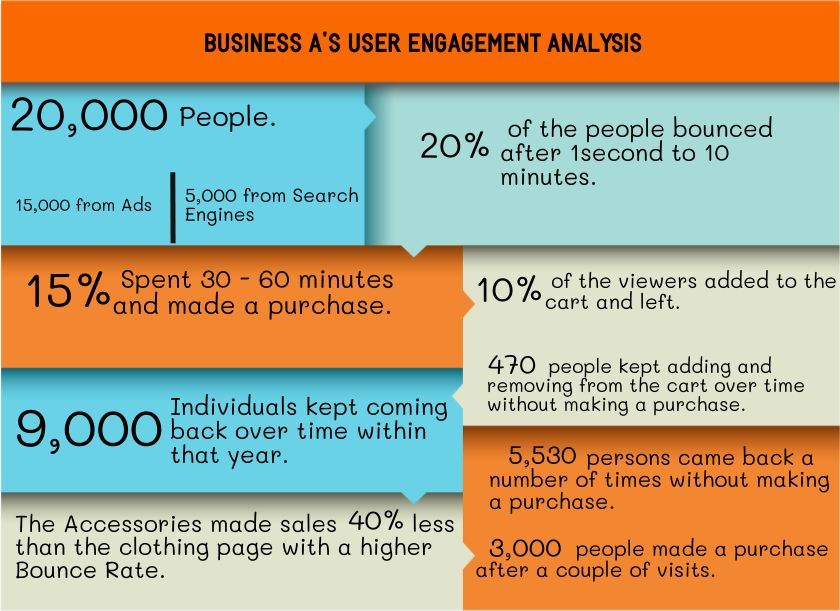 With the results above, they were able to plan the following:
Business A discovered that the majority of their purchases came from Ad spend – they decided to spend more time and effort on retargeting ads on abandoned cart users, baiting the ads with discounts to get more returning traffic. At the same time they want to strengthen their emailing list, so that they can become less dependent on ad spend.
They checked the profiles of churned users and realized that they consisted mostly of unmarried men, not the ideal customer for a women's only clothing store.
They decided to:
– Not target their ads to single men, and
– add a pop up for bouncing users to know why they are leaving. Is it the website design, speed or plain lack of interest?
They will be reviewing the results beginning next quarter.
From the tracking results, they were able to segment their audience and decide the kind of emails to send:
– upsell complementary items for first time customers who purchased on the first session,
– send out omens of concern to users who abandon their carts, and
– incise loyal customers to fill in Get-a-Discount-For-Feedback survey.
They continually check the profiles of customers that purchase and target people with similar profiles once a pattern emerges. They experiment to see what type of upsells are working.
With the results Business A got from tracking their user engagement, they now have the power of segmentation, a better understanding of who their customer is, and the ability to plan the next year with intentionality.
They know how to improve their sales by crafting the targeted ads to be more tailored and personal.
Their email marketing efforts are improving and they are creating surveys with higher response rates, and relevant data-points. As long as they continually take action based on their findings, they are likely to improve their ROI in the coming years.
Business B on the other hand does not track its user engagement. Their marketing team meets often to debate strategies and the best debater often determines the direction and marketing spend. As a result, they have a very good idea of direction, but spend almost no time testing their ideas in the market by focusing on customer metrics.
They target the same demographics year over year, thinking a bad year will come and go. And when they target a different group, it's based on motivations echoed during the marketing team's quarterly strategic debate. Marketing means spending time and money on SEO but it's not known if it achieves desired returns. The head of marketing is convinced that SEO is getting results, but there is no data to back it up.
Overall, they are making choices because of what they think instead of what their users and customers are telling them through their own behaviour. There is no story based on data.
A customer's experience highly affects their engagement and in turn your sales. If you don't address their needs and quell their objections, they leave and become one time customers. As a result, you'll lose money or make less than what you could have. Studies show customers don't mind brands tracking their habits as long as it improves their experience.
Customers are the pillars of a brand. Using your user engagement analysis as a means to improve their experience will make them loyal to your brand. They may become advocates and recommend your products and services to others. This gives your brand a type of trust that you wouldn't get with other marketing efforts.
Statistics chart from financeonline.com
One time customers generate short term sales and short-term profits. Conversely, long-term returning customers generate long-term sales and then long-term profits. We are pretty sure you prefer the latter.
In case you're still unclear about what User Engagement is, here's a concise definition:
User Engagement is an evaluation of how people respond to your brand's offering. It could be a service or a product.
User Engagement can be assessed in so many forms, like the number of views on a site, number of page shares, number of clicks on your ads, bounce rate, etc. The type of metric you use to assess engagement largely depends on your company and what you're offering.
For instance:
Company Type
Actions to be considered as an engagement
Visual Content Site

Liking/commenting on a post.
Reading a post.
Sharing a post.

Invoicing software

Creating an invoice.
Adding a new customer to send an invoice to.
Receiving payment

Online Survey application

Creating a survey.
Sending out a link to your survey.
Sharing survey site to someone.
Important User Engagement Metrics
Here are a few key important metrics, in as much as they're subjective to your brand, they're the KPIs that will be relevant and useful to any brand.
Users: users are a vital aspect of your brand, various ways you can track your users include measuring your Active Users (daily, monthly or yearly active users, you can use this information to know the kind of visitors you have overtime.
If they fit into your customer profile, what products or pages they interact with the most, the users that keep coming back over time, and where they come from.
2. Sessions: A session happens when a user or a customer spends time on your app or website. With this metric, you can determine how often each person engages with your app or website.
3. Session Duration:
How long users stay before they leave. – knowing how much time users spend on your app/site will help you know how engaging it is and how best to improve it.
4. Retention rate: This is the number of users that return and become long term customers.
Tracking this metric will help you identify who your loyal customers are, who to maybe give discount codes, send Feedback-surveys to and also use their profiles to retarget ads if need be.
5. Churn/bounce rate: This is the opposite of retention rate, it's the number of users that leave your site, after the first click, visit or overtime.
You can use this to compare your retention rate to the churn rate. Know the kind of users that leave and maybe send a survey asking what made them leave, so you can improve.
6. Acquisition: This is the root of where your users come from was it a referral? Ads? , organic search? Social media? or a Paid search?
Understanding where your interactions come from so you can budget your customer acquisition cost better, decide what marketing activity to focus on and what to spend less effort on.
7. Screen flow: With this metric, you can see what your customers /users interact with the most.
Find out what makes them have longer sessions, what triggers them to leave – With this, you can restructure and redesign your app or website based on the results you get.
All of these metrics are interrelated and it's the best when you track them together in a dashboard, rather than independently.
It's not just these metrics that matter. There are other engagement metrics and engagement actions that depend on the kind of business you run. Cart abandonment rates matter for eCommerce brands, number of comments for blogs and usage frequency for SaaS brands.
Picking the right one for your business is imperative, because not every metric is worth tracking. Not every metric is germane to your brand's goals and growth. In fact defining just a few metrics to guide you or your team is better than defining too many risking information overload.
Tools to help you track your user engagement metrics
After knowing the what and the why, the how is what completes the circle of growth. In this case the how is by investing in analytics tools that will make it easier for you to understand how your users engage and use the results to improve your brand.
Once you can measure it, you can improve it.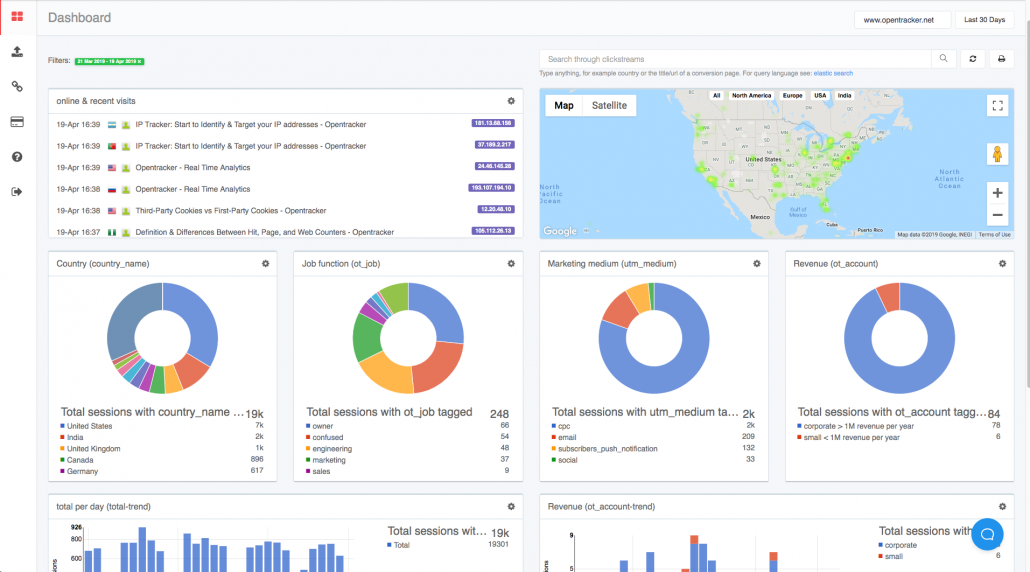 Image of Opentracker's dashboard
This software can be used on your website or app. It will give you a detailed overview of where your visitors come from, what keywords they use to find you, and how long they stay on your site, how many times they've visited, if your link was shared, and even the city they're from. This is the holy grail for measuring your user engagement, you have everything all on one, – metrics that will greatly improve your SEO efforts, better-target your ads based on their profiles, and overall brand performance.
Book a free consultation with OpenTracker to get started!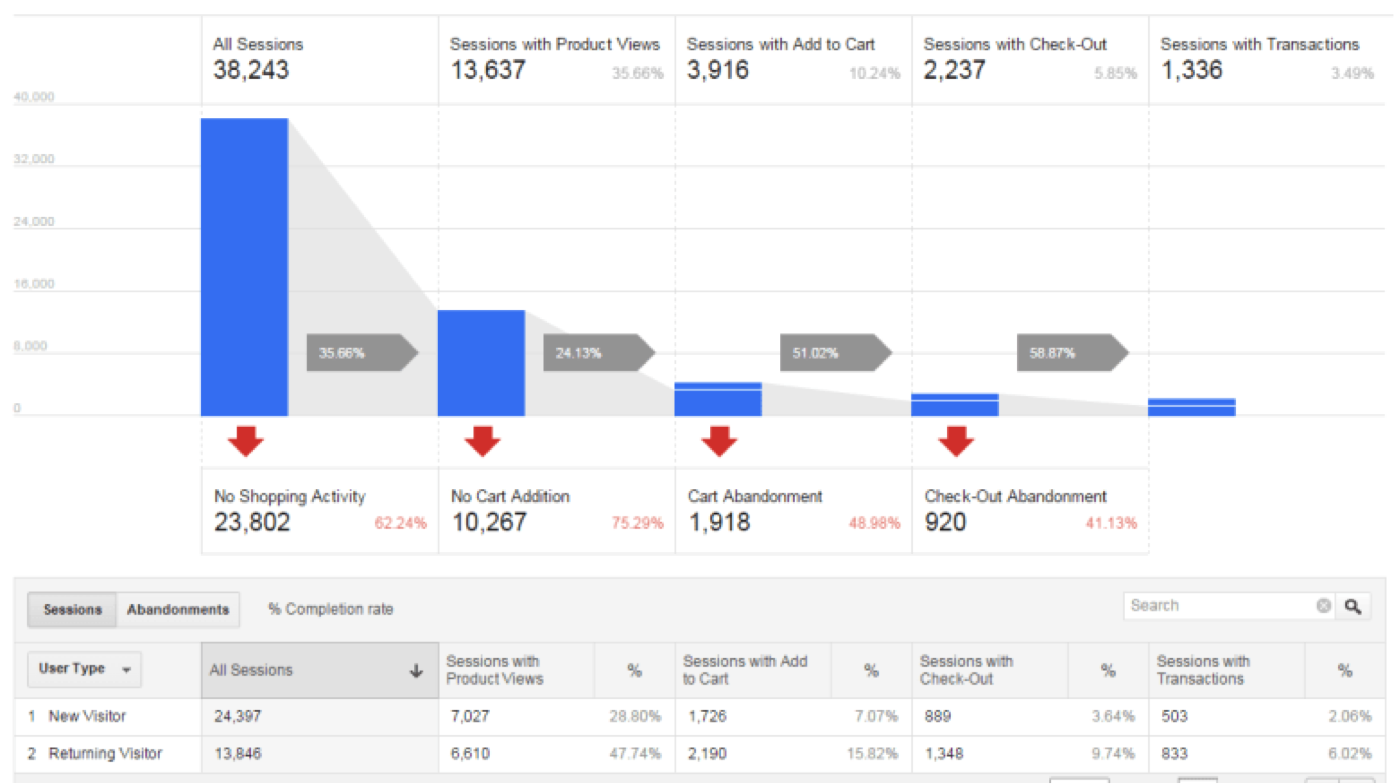 This software is the swiss army knife of analytics. It can be integrated with Shopify or Oberlo – it helps you measure performance, segment traffic based on actions, and understand how many actions are performed.
3.HotJar: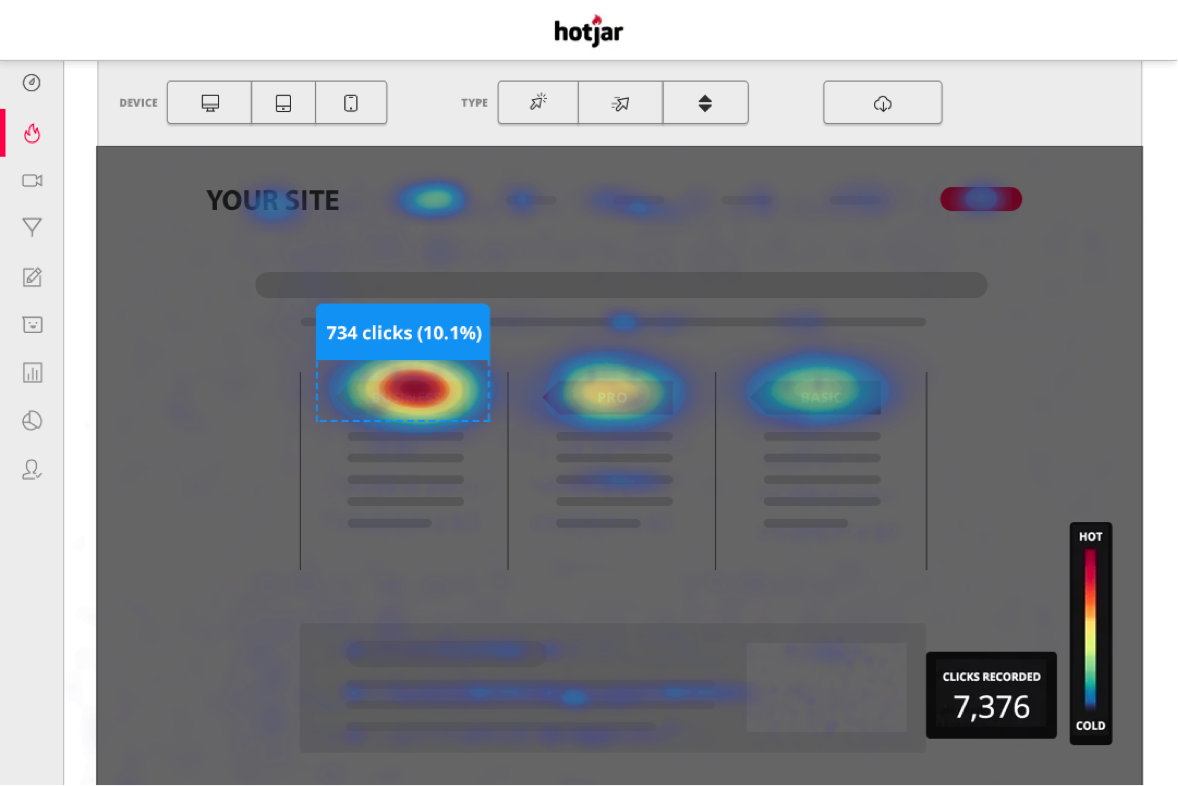 This is a heat map tool that helps you see what needs to be improved on your website. It helps you determine if people reach important content, follow the main links, buttons, and CTAs, and/or experience issues across devices while browsing your site. When you use heatmaps on business-critical pages (including your homepage, product and checkout pages), you make sure you are always creating a great experience for your users.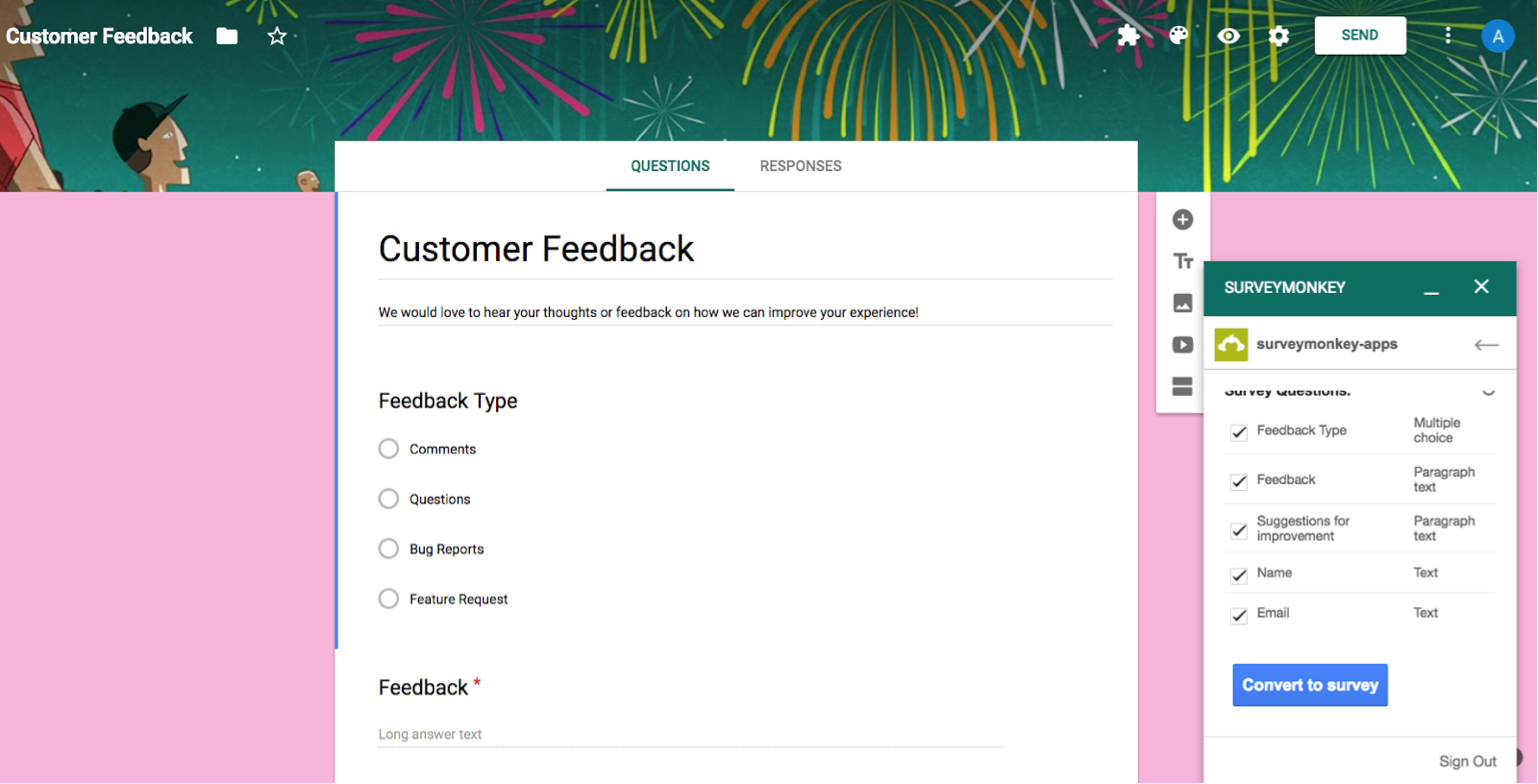 This is a survey software that can help you create custom surveys to get feedback from your customers.
STRATEGIES TO IMPROVE YOUR USER ENGAGEMENTS RATES.
Two key things to always keep in mind when creating a user engagement strategy is – listen to your customers and – keep them happy.
App/Website Speed: 70% of Customers say speed affects their busting decisions, if your app or website is slow or below average and you don't improve, you are losing potential customers.
Create a customer profile for your brand: Having a profile helps you target the right persons otherwise you'd be wondering why your ads are not effective. It's because you don't have an idea of what your ideal buyer should look like. Here's how to do so and a cheat sheet to help.
Personalizing your brand: Be relatable, customers love it when they can relate to a brand. They feel understood. Personalization starts when you can call them by name. Creating a target profile will take you a long way. 96% of Marketers agree that personalizing their brands improves their customer's experience.
Efficient customer service/support: Be reachable: Consumers are willing to spend 17% more on a company that has outstanding customer service and 93% of customers are likely to make repeat purchases with companies that offer excellent customer service. Poor customer service/support will cost you a lot. Include a chatbox on your site, offer 24/7 support if possible, have a blog that explains Frequently asked questions/ issues about your brand and how to resolve them.
Website and App design: Make your App and website easy to navigate. Clunky designs can hurt your SEO efforts; poor graphics can affect your app. Colors have a psychological effect on your visitors, so be sure to understand this and make use of color(s) that truly represent your brand.
Invest in analytical software programs: Invest in software like Opentracker, survey monkey and hotjar. Track your Engagement – having an overview of the actions taken by users over time will help you improve your business continually.
Learn to make your customers feel loved: Give discount codes if you can, say thank you when they purchase something, ask for opinions. Customers who already have a relationship with your brand, want to be heard and seen. It builds trust and loyalty.
In conclusion,
You don't need to guess anymore.
You can see what your customers are dissatisfied with. You can take steps to address them.
Improve your ROI and make more profit by providing value to your customers. Understanding and satisfying your customer base is key.
Tracking user engagement is the way for you to do this.
Author : Vera Agiang
Vera Agiang is an Experienced Marketing Specialist with a demonstrated history of working with B2B FinTech and Saas companies. Follow her on LinkedIn.