The Customer is King – Busting the Myth
Bad Clients
Clients are the lifeline of any business as demonstrated by the adage "The Customer is King", — a corporate mantra that places the client at the center of business success.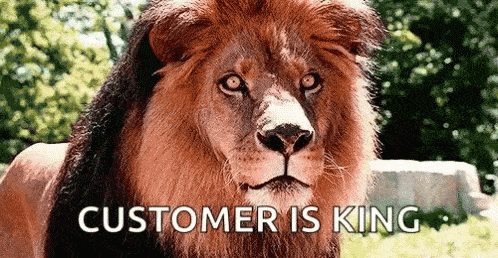 Prominent gurus encourage businesses to  shower their customers with attention and pampering. As a result, most businesses find it hard to say "no". Bad clients can wreak havoc on your business. Metrics such as the cost-per-acquisition (cpa) or the average time spent will suffer.
The best defence? Ensure that your business is not attracting bad clients to begin with! 
How do we do this? By understanding your online customers' behavior, making informed business decisions backed by reliable data, and tailoring your marketing and buyer journey to ensure the right message is conveyed to the right audience at the right time.
The first step is to build a selection of 'bad client avatars' and avoid them in future. The following are examples of the types of bad clients to avoid.
The "Unreasonable"
Unrealistic expectations or demands. Never satisfied. Very challenging. "Unreasonables" put pressure on your resources and drain morale.
Tip: it's important to set realistic expectations in the buyer journey so the potential buyer knows what to expect. Buyer journey insights will help accomplish this.
The "Low-Baller"
Low-Ballers are looking for the lowest price possible. They are not interested in quality or value and are frustrating to work with as they are only interested in the cheapest options. Identify your target market's income bracket and ensure that your ads and content target your market.
The "Flake"
When you're marketing your business, cost-per-click is everything. Avoid attracting clicks from people who are not interested in your product or service. Flakes are time-wasters who click on your ads without any intention of buying anything. They might be curious, or they might just like clicking on things. Flakes increase your cost-per-click without bringing any value to your business. The best way to avoid attracting Flakes is to create ads that are relevant and targeted to your ideal buyer persona. If you're attracting a lot of clicks but not getting many conversions, it might be time to reassess your targeting strategy.
Opentracker allows you to identify the types of clients who are visiting your website and understand their behavior in real time. This insight empowers you to optimize your strategy and buyer journey to ensure that you are attracting the right kind of attention from the right people. Bad clients can have serious effects on your business, so it's important to be able to identify them early on. By using Opentracker to understand your online customers' behavior, you can make sure that you're doing everything you can to weed out bad customers, improve buyer experience, and increase your conversion rates.